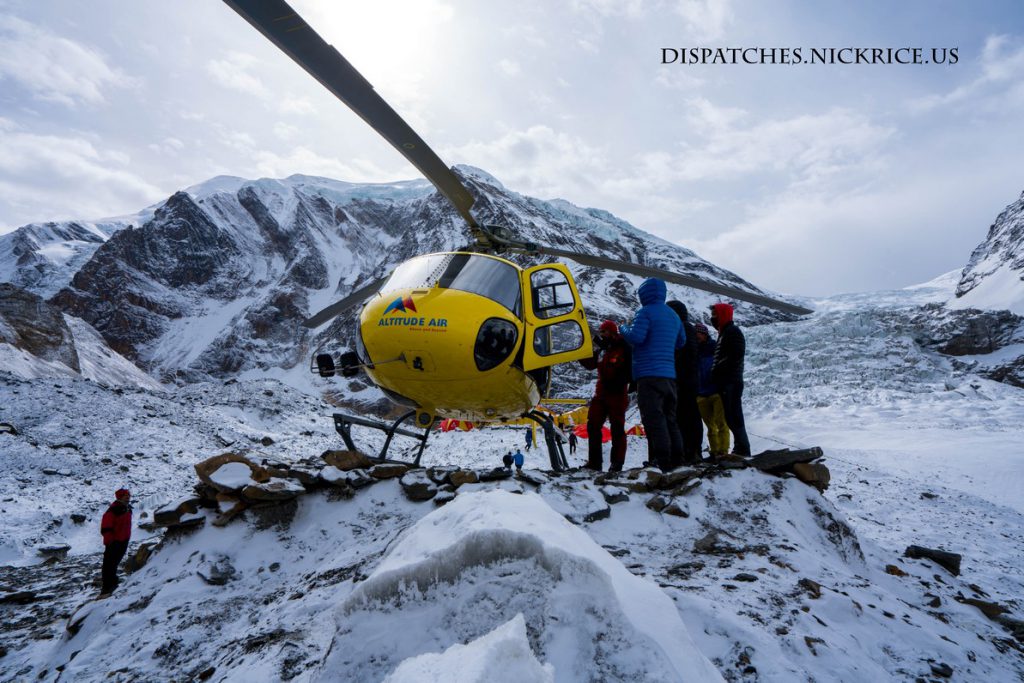 Today, after hearing the Chileans and Chris depart in the early morning hours, my tent was shaken loudly by our base camp manager around 6:00am. He came with bad news. Late yesterday, Simone La Terra was swept from a lower bivy between Camp II and Camp III. I immediately got dressed and went up to the Seven Summits Camp where I spoke with Rosa and some of the Sherpas about what had happened. Simone had decided to pitch a tent below the normal place where Camp III is located. He chose a location on the ridge for his tent platform, and as he was taking shelter in his tent, a strong gust of wind blew him and his tent off of the ridge with him inside. Simone fell a significant distance before coming to a stop just underneath a serac (his final location was not known at the time). I returned to our camp and we advised Parajuli. He was not satisfied with the information that we had in base camp and wanted to wait for more concrete information about Simone's location before sending a helicopter for rescue. Later in the morning, we spoke with Chris in Camp I. He advised us that Alex Gavan had arranged a rescue effort and that the helicopter was inbound. The weather moved in, as had been forecast, and we all moved inside as we tried to put together exactly what had happened. The helicopter was unable to make it to Camp I in this weather, so it stopped in Italian Base Camp for the night so as to be poised for a rescue effort first thing in the morning when the weather is normally clear. I've known Simone since 2007 and consider him to be a close friend and part of my climbing family. We climbed together most recently on Gasherbrum I in 2015 and on K2 in 2016. He was always cheerful, generous, caring, and the life of base camp, as his jubilant personality always brought a smile to everyone's face. I take solace knowing that he died doing what he loved most in the world; climbing. Lina and Javi arrived from Camp II to base camp just before lunch time. We gathered for lunch, during which we spoke fondly of memories of Simone. In the late afternoon, to distract ourselves, Badia, Mauricio and I went up to Carlos Soria's camp to speak with his doctor. He examined my leg and said he was sure it wasn't broken or fractured and said that it most likely was a strain of a tendon, ligament or muscle. He said he would prefer that I take one more day of rest before beginning my descent but said the injury shouldn't prevent me from completing the expedition. We returned to our base camp, had dinner, and spoke at length about our plans to go up the following morning. Since heavy snow had fallen most of the day, and considering the events that had occurred so recently, we made the decision to postpone our ascent to Camp I until Tuesday, to allow the mountain a day of good weather to clear excess snow.
"I learned that every mortal will taste death. But only some will taste life." – Rumi
RIP Simone La Terra. You will live on in our hearts.