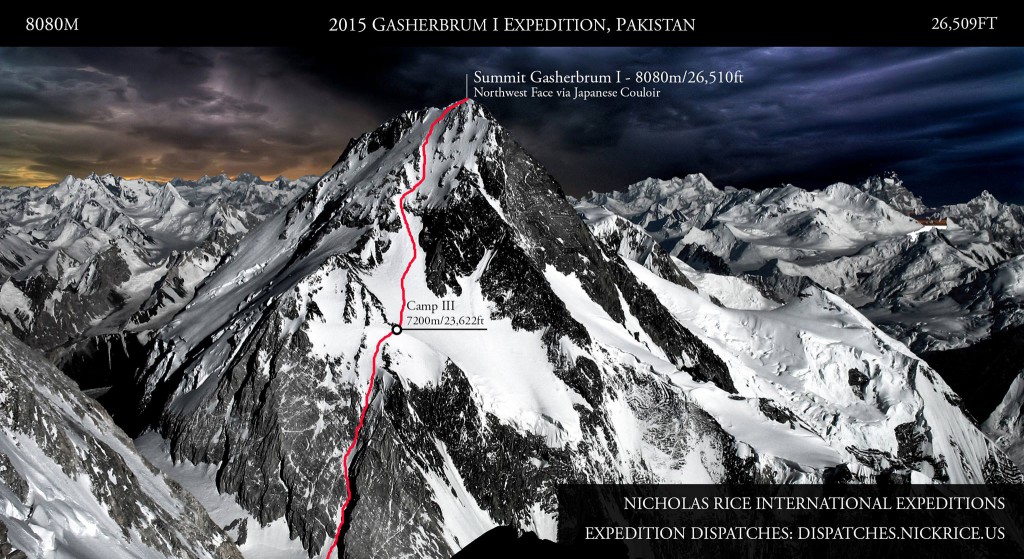 Nicholas Rice departed Los Angeles for Islamabad, Pakistan on June 17th, 2015 for his 12th Himalayan expedition and his 15th major international expedition. Nick will be attempting Gasherbrum I in Northeast Pakistan via the Japanese Couloir.
Gasherbrum I is 11th highest mountain in the world standing at an elevation of 8080 meters or 26,509 feet. The word Gasherbrum comes from the balti words "rgasha" meaning "beautiful" and "brum" meaning "mountain". It is located in the Karakorum Range in Northeast Pakistan. The first ascent was made in 1958 by Pete Schoening and Andy Kauffman, members of an American Expedition led by Nick Clinch.
Dispatches will be posted live from base camp via satellite phone as the expedition progresses.  
This will be Nick's 10 year anniversary since his first expedition in the beautiful country of Pakistan.