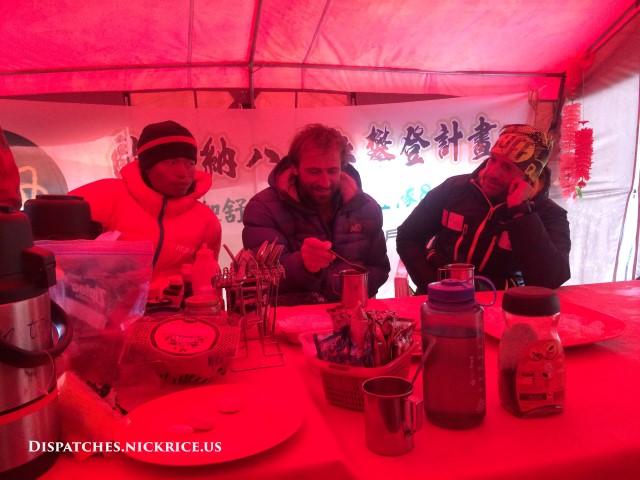 Today, I woke up to a snowy base camp, had breakfast in the mess tent, and then headed up to Ferran's camp for a meeting to discuss our plans for the coming days. We compared weather forecasts and more or less decided not to leave for Camp I tomorrow early in the morning as the Gasherbrum II climbers are. We instead will try and reach Camp II directly the following day when the weather is supposed to be good and the new snow will have had time to settle. We are planning on bringing everything we will need for a summit bid in case the weather decides to cooperate and we have sufficient energy after fixing the route from Camp II to Camp III in the Japanese Couloir. After this meeting, I headed back down to my base camp for lunch, then worked on packing my gear for the potential summit bid. At 5pm, we had another meeting in the Taiwanese camp where we finalized plans for going up. Tom and I stopped briefly in Peter's tent (Kobler commercial expedition) where we confirmed that his group will leave tonight. I finished watching a movie in my tent, then had dinner in the mess tent where Harald was packing his bag for a climb to Camp I tonight. Although he is climbing on Gasherbrum I, he will be acclimating on Gasherbrum II.
Today is also my 1.5 year anniversary with someone who has taught me what true love really is; whose brilliant mind and kind heart have made all others fade into the background, and whose company I wish to keep for the rest of my life. I love you! For this occasion, I quote the poet Tagore:
My heart, the bird of the wilderness, has found its sky in your eyes.
They are the cradle of the morning, they are the kingdom of the stars.
My songs are lost in their depths.
Let me but soar in that sky in its lonely immensity.
Let me but cleave its clouds and spread my wings in its sunshine.